The R.G.S. purchased "K-27" number 455 from the D&RGW in September of 1939. She was one of only two K-27's to ever bear their markings... Unfortunatly, she lost her air on a loaded ore train coming off Dallas Divide in November of 1943 and rolled down an embankment and was to sit idle until 1947 when she was outshopped with a makeshift cab ( Cut down from a Standard Gauge D&RGW 0-6-0...), and a much modified tender, giving her a really distinctive, if ungainly appearance...

Our model above depicts how she looked soon after her rebuilding... Later photos of her show her with a more "conventional" tender, so naturally we modeled her both ways...

The engineer you see there in her cab is just one of the 14 or so enginemen we have in our product line. We call him "HW" because he reminds me so much of an old friend of the family name of Henry back when I was a kid. . .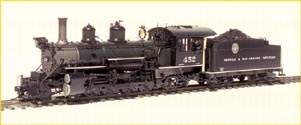 Click the Icon above for a look at another one of the D&RGW's famous K-27's !
Or Click Here to return to the Gallery page...

Copyright 2001 - 2016 - P-B-L - All Rights Reserved