The "K-27" is probably the best known of all the locomotives to ply the rails of the narrow gauge. First delivered to "The Grande" back in 1903 as "Vauclain Compounds" and all converted to the much simpler "D" Valves by 1909, they were the largest engines of their era, which was to say: About the same physical size as a small "Standard Gauge" 2-8-0...

One highly visible difference though was the fact that their wheels were INSIDE their frames, instead of outside as those of their "Standard Gauge" bretheren. And so, with their inside mounted drivers, and outside mounted counterweights and valve gear they gave the peculiar appearance, when viewed from the front especially, of "plodding along" on their counterweights! It wasn't long before someone made the comment their gait reminded him of a "Mudhen", and it stuck. Mudhens they were from that time forward!

The model picture here is our "Mudhen" number 452 circa the late 1930's. We're quite partial to that "Green Jacketing" paint scheme. (Can you tell?)

This one has very little weathering in evidence which would indicate her paint job was relatively new. We can say this because one time when we were living back in Chama, we painted up number 484 for one of our P-B-L Freights with a Green Boiler Jacket... (For the "Great Freight" back in 1977 I believe it was...), When they fired her the following day, it was discovered she had a leaky washout plug so they had to cool her down again for repair... Well sir, when they fired her a second time, that green jacketing was so covered with soot it looked black! But she sure was a beauty for a short while though, while it lasted...

Powered by an "EN-22" Type Canon Motor, and running 37:1 gearing she'll do about 40 Scale-Miles-Per-Hour on the top end. Yet she has adequate torque to perform switching duties as you might expect.

Like all of our "K" Class locos imported after 1984, these models featured operating (or "working") "Lifting Links", and of course, all windows and hatches were operable too.

The K-27's were the darlings of the Rio Grande Southern, being the heaviest locomotives that the track of that worthy but dirt-poor railroad could support. So when the RGS was scrapped back in 1951, their useful life ended and by the mid-fifties all but two of them had been cut up for scrap.

Fortunately for those of us who love and remember steam, the real number 463 still exists today, and can be seen in operation on that section of the old D&RGW's trackage stretching from Antonito Colorado to Chama New Mexico throughout the summer, operated with loving care by the engine crews of the Cumbres & Toltec Scenic Railroad...

If you have yet to experience the magic of High Country Steam Railroading, then you are truly missing out on one of life's more rewarding experiences! Why not plan your summer (or fall) vacation to include a couple of days in and around Chama and get a taste of what it was like to live in the days before computers, good roads, and reliable motorcar transporation! You can go to the C&TS's website by clicking here. Don't forget to tell 'em P-B-L recommended the trip to you... (They've certainly done us enough favors over the years! 'Least we can do is return 'em when we get a chance!)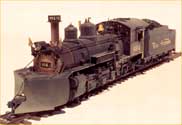 Click the photo above for a look at another of the D&RGW's fabulous "Mudhens", the # 464...
Or Click Here to return to the main gallery...

Copyright 2001 - 2016 - P-B-L - All Rights Reserved