If the door seems to have "different" scribing from that of the car sides, you get an "A". It DOES have different scribing. What the deal is is the scribing on the door represents the "novelty" type siding that was comprised of 1 board, 2 grooves. And of course, expansion / contraction due to the elements would make the overlapping "groove" either more pronounced, or less, while the "milled in" groove remained the same. . . .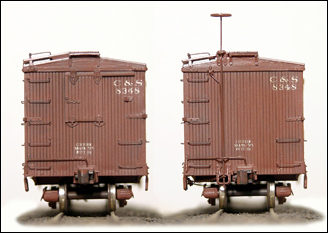 Click the above photo to enlarge these end view shots.
This model weighs in at right about 3.5 ounces. It comes complete with the accurately scaled, easy-to-assemble, ( Read Snap Together ) free rolling "Bettendorf" Type "Cast Steel" Trucks, moulded in that engineering plastic we use for this purpose, "Celcon". And of course, the now Standard of the Industry P-B-L Nickel Plated Brass Wheelsets.
All parts of this model kit, save for the hand grabs, cross-over piping and wheelsets are injection moulded in high impact styrene plastic. Proper Thin Filmed Decals and Genuine Kadee &reg Couplers are included too, of course...