The "GRAMPS" and U.T.L.X. Tank Cars in Brass!

- U.T.L.X. Tank Car Page One -

Some Pilot Models for your perusal !
- Revised Tuesday, January 11, 2005 -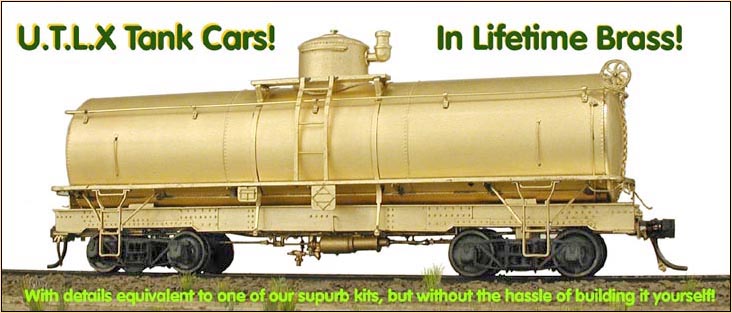 Just look at the frame on this model! Study this for a bit and it's easy to see what this kind of detail, gorgeous ROUND HEADED RIVETS, carefully placed on multiple layers or "plates"...

And how about those 3-Dimensional "tack boards"? You just can't get this level of detail on a production based brass model!

Can you imagine the work involved in HAND PUNCHING that many rivets on a production run? And how EXPENSIVE they would end up being? Right!

Obviously the level of detail of these is EXACTLY LIKE that of our incredible Injection Molded Plastic Kits! So once these are painted, about the only noticeable difference between the two, will be... Uh........ Come to think of it, there won't BE any noticeable difference!

Now you can have your own 9 car "Cumbres Turn" of GRAMPS and UTLX Tank Cars that, since they'll have our free rolling P-B-L Plastic Trucks under 'em, your big "K's" can haul up to "Cumbres" without the hassle of having to build 'em yourself !

Click Here or on the photo below for another view of this "Narrow Framed Beauty"!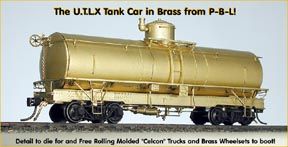 Click Here to return to "Brass Tanks" Page One.

Click Here to Return to New Projects..

Click Here to Email a reservation request now! ( Small Deposit Required. )

Copyright 2002 - 2005 - P-B-L ® ALL RIGHTS RESERVED