The "GRAMPS" and U.T.L.X. Tank Cars in Brass!

- U.T.L.X. Tank Car Page Two -

Some Pilot Models for your perusal !
- Revised Tuesday, January 11, 2005 -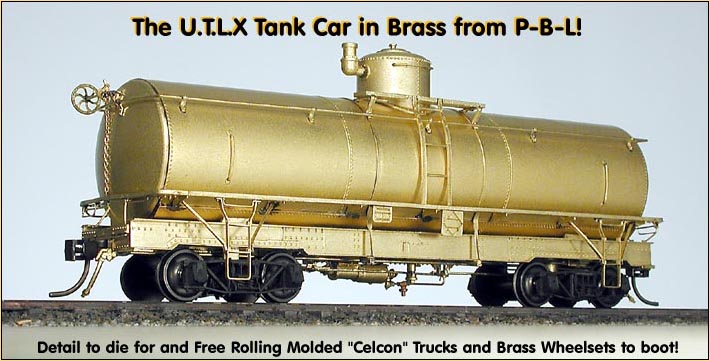 Here's the "other" side of our U.T.L.X Tank. Wouldn't you agree that the level of detail is simply outstanding?

The U.T.L.X. tankers will weigh in slightly heavier than the GRAMPS cars, as did their prototypes. In this case, these cars weigh just barely 5 ounces. Which is really respectable for a brass model! Making them real "useable" models!

These models are in production now . So send us an Email ( or give us a call at 707-462-7680 ) to "get yourself stood in line..."
Click Here to return to "Brass Tanks" Page One.

Click Here to Return to New Projects..

Click Here to Email a reservation request now!

Copyright 2001 - 2004 - P-B-L - All Rights Reserved