The "GRAMPS" and U.T.L.X. Tank Cars are coming in "Sn3" from P-B-L!

Some Pilot Models for your perusal !

Exquisitely constructed in Lifetime Brass!
- Revised Tuesday, January 11, 2005 -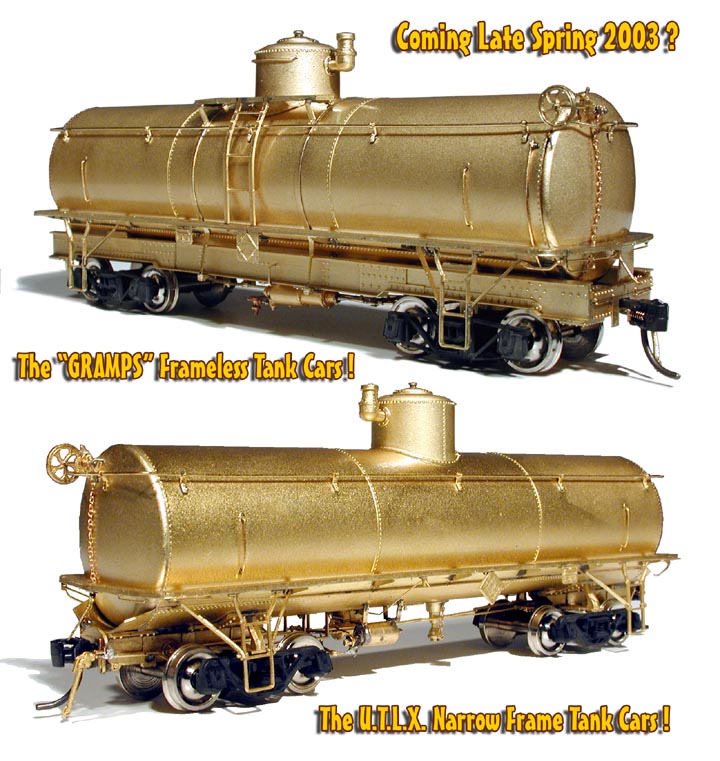 One of the neatest things about modeling "The Narrow Gauge" is: Because "short trains" were the rule , rather than the exception. At least on the winding mountain grades they plied was that the case. The biggest consist of tank cars that the heaviest locos on the line could move from Chama up to Cumbres Pass was a train of nine cars. And this was prototype operation!

So what we're entertaining is having the models packaged in - 9 - car sets . Nine cars in one box, all factory painted and weathered by your friend and ours, the one and only, inimitable Jimmy Booth.
Both the "early" - "12000 - 13000" series ( Pre-1947 ) and the later "88000" series will be offered.

Models will have our free rolling Celcon&reg trucks under 'em and Geuine Kadee&reg Couplers installed, as you see here.

Individual cars will be available by special order only in this very limited production model run.
Click on either of ths photos below to learn why the details you see on these two "pilot models" is so unbelieveably crisp!
So that end we've provided you links in the form of "icons" ( photos below ) which you can click on to transport you to more verbiage from yr fthfl svt and more pictures of these great, super-detailed models which you can reserve now for delivery some time late spring 2003. . . 'Creeks don't rise and all that. . .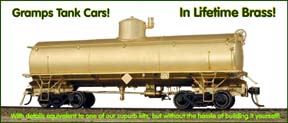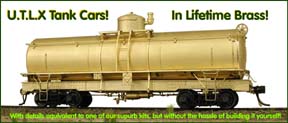 ( For more highly detailed views, click on either of the photos above. )
Click Here to Return to New Projects..

Click Here to Email a reservation request now! ( Small Deposit Required. )

Copyright 2002 - 2005 - P-B-L ® ALL RIGHTS RESERVED